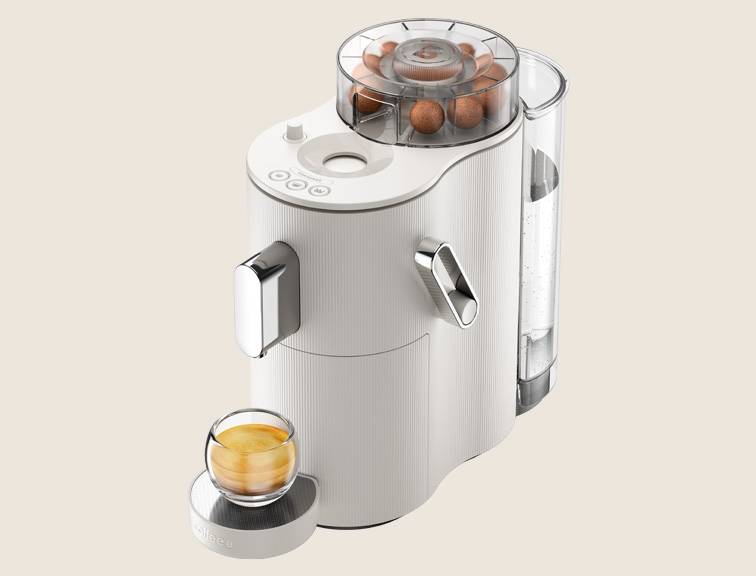 Description
A Revolutionary Machine
The brewing technology of CoffeeB, which is free from capsules, is a revolutionary way to enjoy single-serve coffee. The technology is patented for its ability to extract intense flavors and create perfect foam.
Patented brewing technology for intense flavor extraction and perfect froth, its A+ certified energy saving mode, quiet operation, descaling program and residual water control to avoid overfilling the tank.
Compact, silent, and patented machine :
Fast preheating
19 bars of pressure
2 cup lengths
Large water tank (1.5L)
~40 % recycled material
Coffee Ball Distributor
Silent
The coffee machine operates almost silently, making it possible to serve coffee without disrupting meetings or disturbing colleagues !
Quick
With a record preheating time, your cup of coffee will be ready in 15 seconds !
Clean design, Ergonomic, and Compact
The machine's design is visually striking and catches the eye. It is effortless to operate and maintain, making it hassle-free to clean. Its compact size allows it to seamlessly fit into various workplace settings, such as reception areas, meeting rooms, kitchens, and offices.
General Characteristics
Weight: 3.7Kg
Dimensions: 37.3cm x 15.0cm x 30.9cm
Water tank: 1.5L
Used capsule tank
Characteristics of the coffee preparation
Pre-heating time: 15 seconds
Pre-infusion and infusion time: 25 seconds
Water pressure and temperature: 19bar, 80-90 degrees Celsius
Noise: 57 decibels